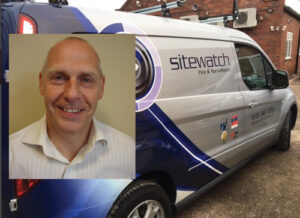 Mark Gray is Sales Director at Sitewatch Fire & Surveillance based in Halesowen, West Midlands. Areas of expertise for the company include CCTV, access control, barriers & gates, intruder & fire alarms and the business boasts NSI NACOSS GOLD, NSI FIRE GOLD and BAFE certification.
What would be a typical project for you?
Small installations to large projects we offer flexible packages to tailor the needs of individual customers.
What is the best thing about working in security?
We have a varied scope of works giving us a variety of challenges throughout the industry.
Is third party accreditation beneficial to your company?
Yes we are proud to be part of NSI, with the insurance market and the standard being recognised – it's truly a mark of excellence and most certainly helps our business go from strength to strength.
Do you think there is a skills shortage in the industry? Any trouble recruiting?
Yes we have experienced the difficulty in getting skilled engineers; we currently have three apprentices in the hope to fill this gap.
Are there any common requests from customers that give you problems?
No – we will always try and accommodate the customer at the end of the day – the customer may not always be right but they are the customer and we will always try our best to give 100% satisfaction.
Read the full interview in the June 2019 edition of PSI magazine