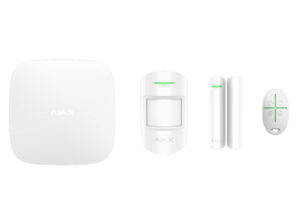 The Ajax alarm system is a wireless based EN50131 Grade 2 range of components that can be mixed and matched to suit a variety of home and office environments. Components are available in white or black finish to suit the décor of the site. Smartphone setup, management and monitoring along with extended battery life mean that the system is easy to install and use. With a broadband primary link and cellular secondary path available the system can be personally monitored or linked to a central station monitoring service.
Getting started
The system can be purchased in several ways. As a basic starter kit with a small number of detectors, one of a variety of medium starter kits or as individual devices. The system is based around the owner's smartphone and this is used for all installation parameters and configuration. Alternatively, the system can be configured by an installer and remotely managed if required.
Communication between devices is by wireless link and is referred to as "Jeweller" radio technology with a free-space range of up to 2000 metres for most devices, though in building use will significantly reduce this.
All devices have batteries pre-installed and these are generally stated to have an operational life of between 3 and 7 years.
The Smartphone App can be downloaded from the relevant store for Android (4.1+) or iOS (9+). Once you run the software you are requested to establish an Ajax account after accepting its end-user agreement. For security, the sign-up process sends an SMS message to the mobile number and an e-mail to the address you have provided and the two six-digit codes from these messages are used to validate your account.
Once the app is running it is used to add the various devices and additional users to the system. For first use a "wizard" can be followed to very quickly get things up and running.
Hardware
Seventeen devices were provided for the test and for simplicity these can be thought of as System, Intrusion detectors, Other detectors, Sirens and Control devices.
Read the full product review in the June 2019 edition of PSI magazine