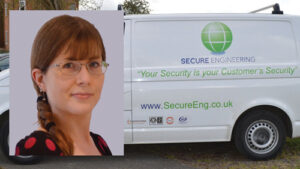 Kate Tompsett is the Intelligence & Marketing Editor at Secure Engineering in Maidstone, Kent. The company specialises in CCTV, ANPR, access control, security lighting, car park guidance & security, traffic management systems and integration of security systems and is accredited to NSI Gold, ISO 9001, Achilles, Constructionline, Contractor Plus, CHAS
Do you use a distributor or buy direct from manufacturers?
We have built up strong relationships with distributors over the last 27 years, and this seems to work well for us. Having studied the Value Chain at the Kent Business School, we are very keen to utilise and promote it. The Value Chain opens up communication between manufacturers, distributors, installers and end users, leading to improved customer satisfaction, and better business practice for everyone in the chain.
Is third party accreditation beneficial to you?
We work with several construction and utilities companies, so for Secure Engineering, third party accreditation is essential. It also has the benefit of providing an extra level of assurance for new customers.
What would be a typical project for you?
It's hard to pinpoint a typical project as our products and services are so diverse, and customers vary from water treatment sites, and metal refineries, to local councils and transport services. We specialise in creating tailored systems that meet customers' needs, whilst integrating into their existing business setup.
 Do you think there is a skills shortage in the industry? Any trouble recruiting installers?
We are always on the lookout for new Engineers to join our team, and it's important to us that we get the right kind of people, that are conscientious, fun and really care about the quality of their work.
In recent years there has been a noticeable skills shortage, as young people lean more towards university. There does seem to be a shift now to celebrate more practical skills, and we are embracing this trend by adding Trainee Engineers to our team. This allows us to expand our workforce, whilst coaching young people in the unique way that we work. There really is no substitute for practical experience.
Are there any common requests from customers that give you problems? (ie impossible expectations)
The most frequent problem that we encounter is related to time constraints. Security systems are very much in the background for most of the year, but if an incident occurs, it naturally becomes the most important factor. Some quotes are considered for months or even years on end, but if their business should suffer an incident, they want the work turned around within days. We always do our best to accommodate our customers, but firmly believe that prevention is better than cure in the case of security.
What is the security industry's biggest myth?
The biggest myth in the industry is that the largest security installer companies are the best equipped to deal with complex installations or large sites. As Secure Engineering is an SME, we can react quickly, problem-solve efficiently and adapt where necessary. Everyone in the company knows each other well, leading to excellent communication and a great working environment.
 The full version of this interview can be found in the November 2015 edition of PSI magazine