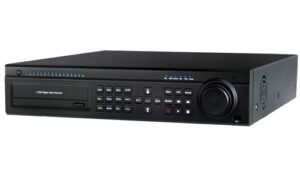 The recorder under review is the Fineplan FVS-TD2716TD-PL featuring 16 inputs – analogue, AHD (TVI) and IP. The recorder is a hybrid device that can take in conventional analogue, HD analogue or IP cameras. Up to eight drives can be fitted though the test model was fitted with one 1TB Seagate Surveillance drive.
Seven cross-head screws hold the top cover in place and once removed shows the layout of the main PCB and power supply at the rear of the unit and the drive space at the front. A very clear label on the top cover informs that the unit must be closed down correctly before removing power.
All drives are fitted to one of two mounting bars that are secured by a cross head screw at either side of the chassis. Power cables for all eight drives are within the chassis and the supplied SATA data cables can be easily fitted to clearly identified sockets at the front of the main PCB. All mains power connections and components are within an enclosed PC type 250W power supply module.
Internal layout is good but with no segregation between the drives and the electronics PCB. The unit has a fan that runs constantly.
Features
The front panel is well laid out with space and facilities for a CD or DVD drive to be fitted at the left hand side of the unit, though this would require four of the internal drive spaces. Camera selection and device control buttons are well laid out and a jog/shuttle dial is included to the right hand side. LED indicators for camera connections and recorder status are arrayed along the top of the panel. A front USB socket is present for mouse connection or back-up devices.
The rear panel has 16 BNC video inputs with associated phono / RCA type audio input connectors. These are arrayed in reverse order with input 16 on the left.
Beneath these connectors are from left to right phono sockets for Audio out and Mic in then, USB, VGA, HDMI, e-SATA and RJ45 LAN connections. Two 8 pole connectors are available for 16 alarm inputs and two further 8 pole connectors provide relay output and RS485 camera control functionality.
Operation
A Loading screen appeared at start-up then after just over a minute, a Wizard screen presented. This had all initial default settings good for the UK so was accepted, followed by an IP settings screen which was accepted for its default settings including DHCP then a final wizard screen identified the single drive.
The initial display screen was then presented as a 5 x 5 grid allocated as 16 analogues, 8 devices and 1 blank segments.
There is no clear way to inhibit machine shutdown; this can be activated from the front panel or the remote control so the unit may need to be held in a secure area to prevent access to this function.
Mouse control gives access to large-icon menus for basic functionality.
While live camera selection and multi-screen displays were relatively straightforward, the replay functionality was non-standard and not particularly intuitive. The replay speed is individually selected as Forward ¼, ½, 1, 2 ,4, 8 or 16x and Rewind as 1, 32, 16 or 8x.
The display gives a time-line along the bottom of the screen with a moving indicator, but at first use with a single camera display there was no Time and Date showing. After selecting a quad screen and then returning to the single camera view the T & D was visible and it was found that this was due to the T & D being masked by the docked screen controls.
The remote control did not make image review any easier and it appeared that the front panel exit button was the only way to return to live viewing.
PC Browser connection is relatively straightforward with a request for an executable to be downloaded. A refresh of the browser then accesses the device log-in screen. Once logged in, there are a series of menus consisting of Live, Search, Backup, Configuration, Tools and Info. These menus and their sub-menus are clearly laid out and easy to follow.
The manual gives a set of instructions for loading specific plug-ins for Microsoft Internet Explorer and Apple Safari with further options for Microsoft Windows Mobile/Pocket PC, Symbian and Blackberry.
Read the full review in the January 2016 edition of PSI magazine