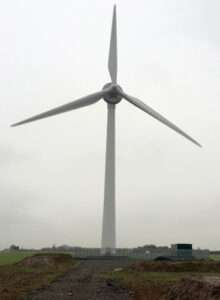 The success of a security installation using Optex detectors to protect against the theft of expensive machinery and equipment at an arable farm in North Lincolnshire has led to a similar system being deployed to protect turbines at a neighbouring windfarm.
Edward Fowler and his brother run the arable farm near Burringham and had experienced a number of break-ins, with diesel being stolen and damage caused to farmyard machinery.
They approached local installer Eyewatch Security who specified a system that includes 15 wireless VX outdoor intrusion detectors linked to two PTZ cameras, which are remotely monitored by Eyewatch at its base in Scunthorpe. Should any alarms be received, a rapid response vehicle is dispatched to investigate.
Managing Director of Eyewatch Security, Dean Bolton, specified a similar system to protect two sets of turbines that are also on Edward's land; 10 VX 12m PIRs have been installed along the perimeter of each of the fields that are also remotely monitored.
Edward said: "We had some issues previously that we did not feel our security system was suitable to deal with, so we wanted something more comprehensive and more advanced. The new solution not only protects all the equipment, but also has a health and safety element to it as well; when workers on the farm arrive and leave, we have a record of who is on site."