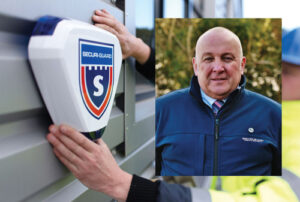 Robert Truesdale is the Fire and Security Systems Manager at Securi-Guard Fire and Security in Plymouth. Areas of expertise for the company include intruder and fire alarm systems, CCTV, access control and fire extinguishers.
Do you use a distributor or buy direct from manufacturers?
We do both and I think it is vitally important to the business that we approach it in that way. Take Texecom for example, our favoured intruder alarm system. We buy from a distributor, but always utilise the knowledge and expertise of the manufacturer.  Each route brings its own distinct benefits. Buying from a distributor gives you the advantage of access to a larger range of products, often competitively priced and it saves valuable time too. However, for certain products it is also important to have that one to one support that only a manufacturer can offer. You can draw on their specific knowledge. With the best will in the world, no distributor is going to have detailed knowledge on a particular product if they are handling multiple product lines. We are fortunate to have access to a plethora of both distributors and manufacturers, which does mean we are consistently able to meet specific customer requirements; however individually tailored they need to be.
Is third party accreditation beneficial to your company?
Definitely! It gives us confidence to know that we are delivering clients a service that meets the very highest and exacting of industry standards. It gives our clients complete peace of mind too. It doesn't matter what industry you are working in, accreditation carries weight and is a vital part of what makes Securi-Guard such a respected name. It's not just a badge of honour though. What's really important to me is the way the NSI act as a gate keeper for our industry. Their 'wall of shame' that lists those companies who purport to be accredited that aren't tells you everything you need to know about how seriously they take their accreditation process, a process that is, quite rightly, extremely tough. The NSI is a great advice channel too, always keeping us up to date with any changes in regulations. That's so important for both us as a business and our customers.
What would be a typical project for you?
There isn't really a typical project because of the wide range of services we offer and the equally broad range of customers we work for.  That is also a reflection of our ability as a business to adapt and change to take advantage of new industry developments, both in terms of products and service delivery. Projects can be as small as a single domestic intruder/fire alarm to larger commercial contracts requiring multi zoned fire or CCTV systems. In a highly competitive marketplace, flexibility is key – and the ability to work cross sector. Our clients include utility companies, schools and city councils, but potentially, they will all have very different project requirements.
Are there any common requests from customers that give you problems?
The impossible we can do immediately…it's the miracles that take a bit longer! No seriously, the crucial element here is managing expectation of clients. To be honest, in many cases we find our clients are pleasantly surprised by the solutions we give them as they are simpler and more competitively priced than they had imagined. They do say there are no problems only solutions and to be honest it is what makes this job so enjoyable, finding our way around any specific issues/ difficulties to meet an individual customer's requirements. Advances in technology help too. It has brought a much wider range of specific solutions to an even bigger audience, solutions which are not as prohibitively expensive as they once were.
Read the full interview in the April 2016 edition of PSI magazine