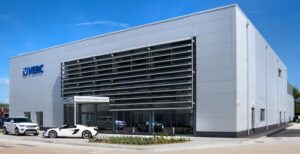 Xtralis VESDA VLP and VLC aspirating smoke detectors are providing early warning smoke detection for the Ricardo Vehicle Emissions Research Centre (VERC), a new facility for the development of clean, low carbon vehicles located in Shoreham, UK.
The Ricardo VERC features a new building with two vehicle test cells capable of testing passenger cars and light trucks of up to 3 tonnes, including hybrid electric vehicles. The facility is climatically controlled with a temperature range of -35 to +55 Celsius and helps Ricardo test new vehicles to far more extreme limits than would previously have been possible.
UK fire prevention company Southern Fire Alarms (SFA) was selected to provide the fire prevention system at the facility. While extreme temperature changes posed a huge challenge for reliable smoke detection, SFA delivered Xtralis VESDA VLP and VLC detectors.
"This project was the most technically challenging I have ever worked on," commented David Fell, Sales Director at SFA. "The vehicle test cells needed to be protected by detection which could not only operate effectively in extreme cold temperatures, but also extreme heat as well. We deployed VESDA detectors and worked closely with the construction team to ensure the installation was faultless and a technically challenging project was delivered successfully."