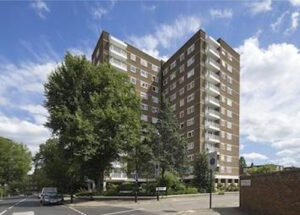 Interphone has installed an IP networked, multi-building door entry system at the Queensmead apartment development in St John's Wood, North West London. The company was awarded the refurbishment project to replace an ageing, legacy door entry system that had become obsolete and was beginning to fail across the six block, 193 unit site.
Interphone implemented a solution including all new cabling, monitors, handsets, control equipment and panels, utilising the Comelit VIP Door Entry system and Comelit Simplekey Access Control.
The IP networked system needed the replacement of all cabling from the panel through to each of the apartments, using existing routes, ducts and containment wherever possible to minimise damage to interiors and existing décor.
The introduction of IP connectivity across the apartments will give residents benefits from the simple, fob-activated entry along with smart, handsfree monitors in each unit that enable straightforward access to visitors and an internal communications tool with other residents or onsite porters. The system also possesses a call log server facility, which allows the recording, storage and playback of calls from the entrance panels to further boost levels of security.
The longer term benefits of the system are listed as including responsive maintenance with remote access and diagnostics to quickly resolve problems on the system and reduce operational overheads. The managing agent will also have the ability to upscale and expand the system in the future, including the potential for an upgrade to CCTV cameras.
James Hewitt-Lee, Senior Property Manager at Kinleigh Folkard & Hayward commented: "We needed an effective way of achieving building security, while enabling a simple way of admitting known and trusted visitors. By taking advantage of an advanced IP networked system means we have implemented a solution that will meet our needs now and in the future."