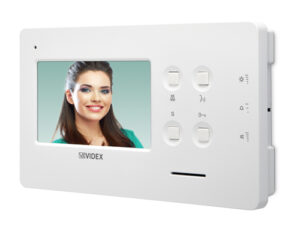 The new 6400 series of hands-free 4.3" colour LCD monitors offers features such as entrance recall, door release and a 'do not disturb' function that enables improved access control security of residential and commercial buildings. Additionally, there are a number of programmable features such as ring tone, privacy time and number of rings allowing each apartment to be customised to the client's needs.
Currently, the monitors are available for the VX2200 6-wire system, VX2300 2-wire system and video kits enabling these monitors to be used in single apartment systems through to high rise systems with up to 1000 apartments. The monitors are a low profile surface mount finished in satin white. The low profile design negates the need to flush fit the device and the connections are all plug type to reduce installation time.
The 6400 complements the existing 6300 series hands free monitors and 6200 series with handset and can be used together on the same system. A stainless steel desk kit is also available to complement this range.