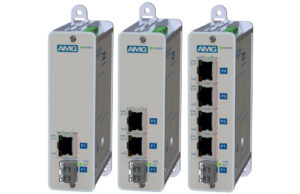 AMG has launched a range of 1, 2 and 4 port media converters, unmanaged and semi-managed switches.  Designed and built in the UK, the ruggedised network devices are designed for deployment in IP CCTV security applications where size constraints exist.
Andrew Pigram, Sales and Marketing Director at AMG Systems, says, "Since the majority of outdoor cameras are located beyond standard Ethernet's normally restrictive 90m range, all the new units incorporate SFP (small form-factor pluggable) slots for optical media or Ethernet allowing data transmission up to distances of 120km. With the option of 100Mbps or 1Gbps speeds and 30W of available power per Ethernet port, PoE & PoE+ enabled cameras or other network devices can be powered directly from the AMG switches or media converters, eliminating the need for additional camera PSUs, power cables and installation expense."
The new semi-managed switches eliminate multicast flooding to local Ethernet connected devices, which makes them suitable for larger CCTV applications where unmanaged switches are not sophisticated enough to handle multicast traffic and where fully managed switches demand an unwelcomed overhead of individual programing, additional cost and network complexity. All models can be quickly surface mounted or simply clipped on to a DIN rail for rapid installation and servicing.