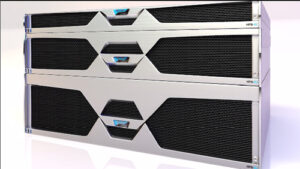 Secure Logiq has announced the launch of a crowdfunding initiative that gives installers, partners and consumers the opportunity to own a share of the business.
The crowdfunding initiative, hosted on the ShareIn platform, seeks to raise £450,000 to allow Secure Logiq to ramp up production facilities and meet a number of potentially very large orders.  The investment sought will also allow Secure Logiq to expand its existing UK based operations and boost sales and marketing activity.
Formed in 2011 by Executive Director, Hamish Johnson, and Chief Technology Officer, Aleksander Uzunov, Croydon-based Secure Logiq is a producer of HD surveillance servers and associated technology providing what the company claims is the fastest performance, the biggest storage, the most resilience and the best value in HD processing and storage technology.  Before Secure Logiq says the company, the only options available to installers and end users were traditional IT servers that simply did not offer the level of processing, storage and throughput required by ever more sophisticated surveillance systems.
Robin Hughes, Sales Director said: "Up until now crowdfunding has focused on raising enough money to get products designed or built for consumer audiences.  We already have a product that is generating lots of business interest and, whilst other funding routes are open to us, we strongly believe that everyone should have the chance to share in our success.  Equity crowdfunding therefore makes perfect sense."
In the spirit of opening up the opportunity to all the minimum investment has been set low, at only £150, and investors from the industry are being actively encouraged to invest and so share in the great potential for the company's long-term success.
Crowdfunding is a method of funding a project or organisation by pooling the money of individual investors.  Many investments made to equity crowdfunding initiatives are covered by the Enterprise Investment Scheme (EIS), which provides distinct benefits for investors. These include tax relief of 30% on investments up to £1,000,000. Conditions apply but in some cases this can mean investments are exempt from both Capital Gains Tax and Inheritance Tax. The EIS scheme also helps investors mitigate some of their risk in the event that they must dispose of shares at a loss, by allowing them to offset the loss against income.
Those interested in investing should visit here