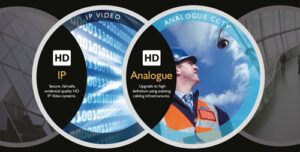 Dedicated Micros has released four CCTV products to the UK surveillance market. Available from 31st August 2015, these products provide a future proofing benefit by enabling HD video upgrades over either or both coax and IP. Essentially this means that end users are no longer limited to using only IP – they will have HD video no matter what the network infrastructure looks like, whether it is coax or IP.
Dedicated Micros' new products include an enhanced version of the SD Advanced hybrid DVR with HD analogue and HD IP support in models over 6TB. Also being released are the Ice2 HD analogue camera range, the SmartVu IP camera range with remote focus as standard and the SD Advanced NVR, which provides desktop HD video surveillance for up to 32 SmartVu IP cameras.
The enhanced SD Advanced hybrid DVR, when paired with Ice2 HD analogue cameras, is ideal for legacy upgrades as it provides a path up to HD quality using existing coax cabling. The Ice2 cameras can run in either standard definition, where they can be used with any Dedicated Micros analogue-capable DVR, or in 720p HD mode when paired with the enhanced SD Advanced.
The enhanced product is capable of processing 175Mbs data and it canprocess 16 HD analogue cameras and stream, record and display over 16, 1080 IP cameras concurrently. All camera configuration, whether HD analogue or HD IP, is undertaken at the DVR, lowering the cost of ownership, training and maintenance.
Dedicated Micros' SD Advanced NVR is an HD IP video solution based on the NVR Media Server. Its built-in Closed IPTV layer 3 switch allows up to 16 SmartVu IP cameras to be directly plugged into the product; expandable to up to 32 with the addition of another 16 port Closed IPTV switch. Remote focus is incorporated into the new SmartVu as a standard feature ensuring sharp quality, which otherwise takes time to perfect on site.
Pauline Norstrom, Chief Operating Officer for Dedicated Micros, said: "Installers and end users alike benefit from our HD analogue technology and patented self-configuring, secure IP video network system, Closed IPTV, which drastically lowers the cost of maintenance, installation, support and ownership."