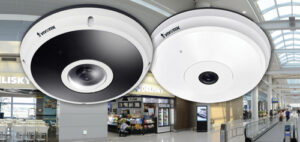 Vivotek has announced the launch of two Ultra-Megapixel fisheye network cameras, namely the FE8191 and the FE8391-V. The FE8391-V features a 12MP CMOS sensor and built-in IR LEDs, reportedly making this model the world's first Ultra-Megapixel fisheye with IR illumination.
The 12MP CMOS sensor and 1.5 mm lens employed in both cameras deliver image quality and provide 180° panoramic (wall mount) or 360° surround viewing (ceiling/floor mount), achieving unobstructed monitoring of wide, open areas such as airports, shopping malls, parking lots, retail stores, and offices. In addition, the FE8191 and FE8391-V are designed with a removable IR-cut filter and WDR Enhancement technology, which allows the cameras to maintain optimal image quality around the clock and visibility under highly contrasted lighting environments, and 3D Noise Reduction technology, which enables the cameras to capture clear video under low-light conditions.
Furthermore, the FE8391-V is designed with a vandal-proof IK10-rated and IP66-rated weatherproof housing, enhancing the camera's durability against harsh environmental conditions and vandalism. The design of built-in IR LEDs and patent-protected light cup enables FE8391-V to provide uniformly and even 360° surround illumination for clear viewing up to distances of 10 meters, even in completely dark environments.