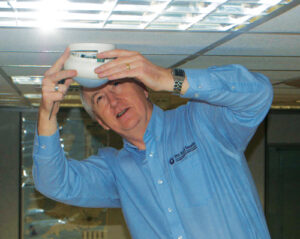 The GS930 glass break detector from UTC Fire & Security UK has been approved by The Centre for the Protection of National Infrastructure (CPNI) meaning the detector can be used on critical national infrastructure (CNI) sites.
The GS930 is an audio glass break detector that analyses acoustic signals 80 times per second to provide warning when framed glass is broken. Thanks to a 3×3 signal processing algorithm, no adjustment is necessary for different types and sizes of glass.
It was also recently confirmed that the DD669AM 20-metre ceiling mount dual technology movement sensor had passed the CPNI testing. The unit combines mirror optics with 4D signal processing to provide detection while increasing stability and the reduction of nuisance alarms. It incorporates range-controlled microwave technology that eliminates nuisance alarms generated by movement beyond the detection pattern.
Ian Avey, pre-sales engineer, UTC Fire & Security UK said: "Having passed independent testing, these products are not just suitable for CPNI projects but also for the wider security segment. Users can be confident that these are highly dependable devices suitable for any application where performance is essential."