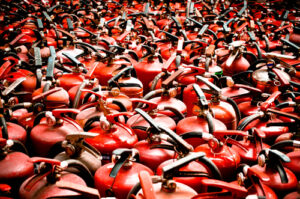 Chubb Fire & Security has reminded users of the dangers of illegally discarding or disposing of old fire extinguishers, following reports of an extinguisher exploding as it was crushed by a London refuse lorry.
The portable Chubb Carbon Dioxide (CO2) extinguisher had been improperly disposed of in a household waste bin outside a block of flats. When the extinguisher was tipped into the back of the lorry and crushed, it exploded. Nobody was injured, according to reports.
"The consequences of this incident could have been much worse, even fatal," said Richard Parker, portable fire extinguisher business lead, Chubb. "CO2 extinguishers are perfectly safe when installed and maintained correctly, but like any high-pressure product, they must be handled properly. Extinguishers like this will typically be safely removed for free by a service company and should never be disposed of as general waste."
CO2 extinguishers are one of the country's most popular fire extinguishers, used to fight fires that involve electrical equipment by removing heat with a very cold discharge. The typical life span of a CO2 extinguisher, if regularly maintained, is about ten years. At that point, the extinguisher requires refurbishment of its cylinder and replacement of the valve, which should be done in a certified establishment.