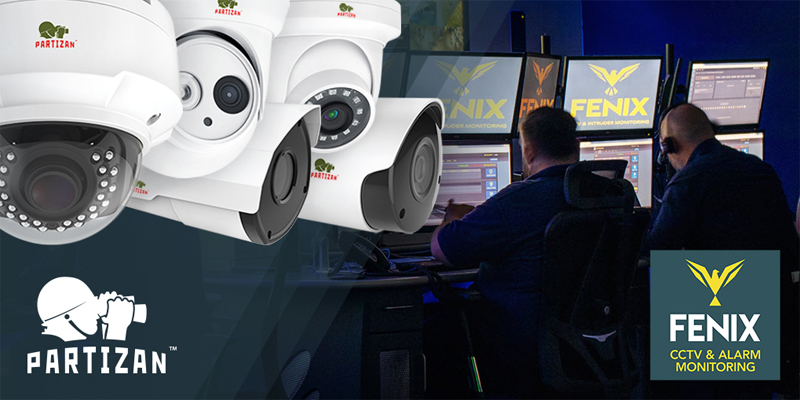 Monitoring service provider Fenix Monitoring UK and Partizan Security, a CCTV and access control manufacturer from the Czech Republic, have announced a new partnership.
The new partnership is being kicked off with a promotion running from January to July 2021 when customers order monitoring services from Fenix Monitoring for Partizan CCTV kit will get one month of monitoring service and one month of Partizan Cloud Storage service free of charge.
With Partizan Cloud Storage premises are completely secured against any issues concerning recordings during the 24/7 monitoring service as footage is stored inside the DVR or NVR as well as in the Cloud for convenient and safe surveillance. In addition to that, with a paid Partizan Cloud subscription, which customers will receive free of charge for one month, they will be able to use Partizan Cloud Link Pro to make a seamless and fast connection with Fenix Monitoring without static IP and port forwarding requirements.
One of the most popular features with Partizan users, integrated event gallery with scheduled push notifications, will be available in the Partizan Mobile App as a complement to the Cloud Storage service as well.
Carl Meason, Managing Director of Fenix Monitoring said of the partnership: "Fenix Monitoring's NSI Gold ARC continues to lead the industry with its digital innovation and new technologies. Its philosophy of looking for next generation partnerships continues with Partizan Security. Our digital investment and understanding of security partnerships is one of the reasons we distinguish ourselves from others in the industry and with Partizan we continue to create yet another combination of two businesses with one goal, delivering cutting edge security products and services to the UK."
Dmitry Danilchenko, CEO of Partizan, said: "I'm happy to announce another powerful collaboration in the UK market. We are pleased to be partnering with Fenix, as we appreciate their attitude to the customers and way of doing business. Similar to Partizan, they are innovators and leaders and they are keen to create new opportunities and new, better experiences for their customers. For us, as a European CCTV manufacturer, the UK market is a top priority and hence it's very important to make sure professionals can get the full amount of services they might need for successful installations. That's why our CCTV kits with Cloud recording, plus certified monitoring service from Fenix Monitoring, will definitely provide the best possible security level for all types of premises."