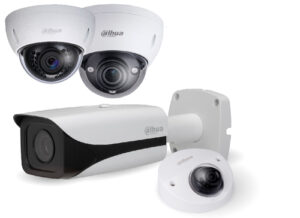 Dahua Technology has introduced its Eco-Savvy 2.0 series of network cameras offering new surveillance features while maintaining the 'green', energy-saving concept of its Eco-Savvy equipment range, including the Ambarella S2LM chip. The new cameras feature a 4-megapixel progressive-scan CMOS, which delivers images at 20fps.
The Eco-Savvy series features a range of detection features including face detection, tripwire detection, and intrusion detection. These features mean that users are equipped with more precise video analysis.
The series also boasts WDR image enhancement technology, triple video streams, and Intelligent Video Surveillance (IVS). The wide dynamic range (120dB) ensures the cameras perform in scenes that are backlit as well as those situated in dark areas, which has traditionally been challenging for surveillance cameras. Dahua has also introduced improvements in the series sensors. The infrared light sensor allows the camera to switch between day and night modes dynamically and automatically, changing as needed according to illumination levels.
The new series also features IP67 ingress protection and IK10 vandal-proofing and operates in temperatures between -40degrees F (-40degrees Celsius) and 140degrees F (60degrees Celsius).