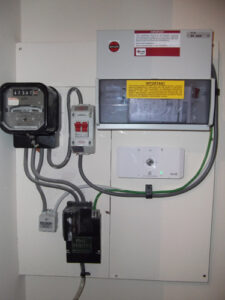 Fife Council is undergoing a programme to install 30,000 Aico Ei414 Fire/Carbon Monoxide (CO) Alarm Interfaces throughout its housing stock. The units provide a dedicated connection between Aico RadioLINK smoke, heat and CO alarms with most new and existing telecare/warden call systems, enabling an emergency signal to be transmitted directly to that system if fire or CO is detected.
Previously Fife Council had been using different components which did not 'talk' to each other, resulting in a potential safety issue. The Ei414 overcomes this, directly interacting with the different systems fitted within the properties to ensure the safety of the Council's tenants.
Following tests, the decision was made to not only install the interface into sheltered housing properties and complexes but, due to the nature of its tenure, throughout its entire housing stock, which equates to approximately 30,000 units. Due to the flexibility of the Ei414, a property's smoke and CO alarms can be connected with sprinkler systems, warden call, panel systems and community alarms.
The Ei414 can be powered directly from the mains or from a 12-24V DC supply, from the telecare/warden call systems for example, and has built-in tamper-proof rechargeable Lithium cells which will power the device in the event of any mains failure.