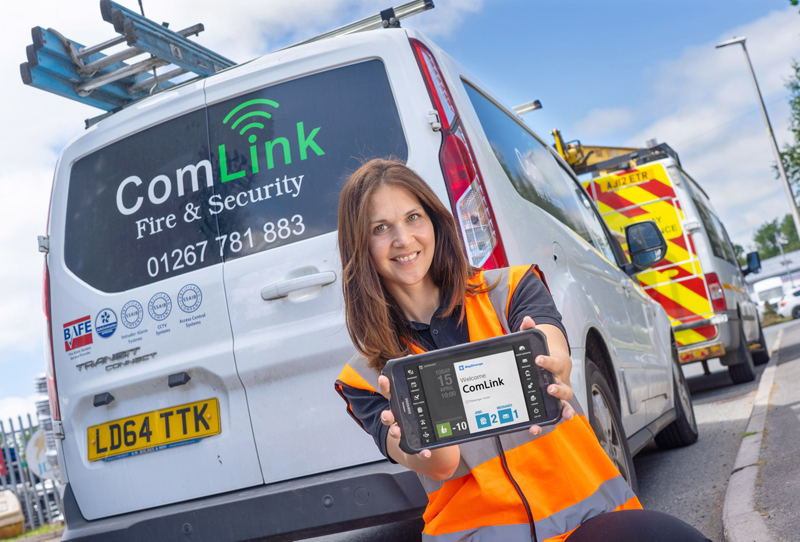 Equipping engineers with rugged mobile devices that synchronise in real time with back-office software has enabled ComLink Fire & Security to embrace paperless working and since introducing the cloud-based technology the business has seen its field service fleet double in size.
ComLink specialises in the installation and service of fire alarms, security systems, HD CCTV and automatic gates and began implementing BigChange in early 2020. The platform incorporates customer relationship management (CRM), job scheduling, live tracking, field resource management, job finance and business intelligence.
"BigChange has completely transformed our business having eliminated paperwork with a real-time system we can all access 24/7," said Tom James, Director, ComLink Fire and Security.  "The platform provides the ultimate control with assurance that all work is being done – and done correctly as compliance is crucial in fire and security."
ComLink provides a 24/7 call out service and engineers are equipped with rugged tablets that replaced paper dockets with digital job reports.  For engineers, the system is a big step up.  As well as eliminating their paperwork it allows them to see what jobs are coming up and then access everything 24/7 which is particularly useful when on night call outs.
"As the business grew we were losing track; parts were being lost, jobs were not being invoiced and generally we didn't have the control we needed," said Tom. "BigChange changed all that and put us back in control.  The system has allowed us to significantly improve our efficiency, productivity, compliance and management. We've doubled jobs per day without needing to increase office administrative resource."
According to James, the biggest impact of BigChange has ultimately been on customer service and business competitiveness stating that it gives ComLink the capability to address the needs of any customer and with much better business retention.