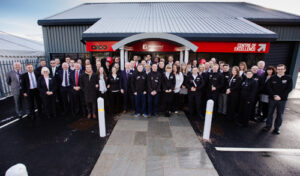 As part of its 25th anniversary celebrations Aico has launched a new training and demonstration facility, the "Centre of Excellence", at its premises in Oswestry.
A standalone building comprising of 4326 ft² (402 m²) over two storeys, the Centre has been built by Aico to demonstrate its product range and provide customers with training and meeting facilities.
On the ground floor Aico has created 'Ember Place', which emulates a furnished home, with typical room layouts including a lounge, kitchen and bedroom. Aico alarms and accessories are fitted within these rooms to demonstrate which products are suitable for these settings.  And, just to add a bit of extra character, each room has been designed and furnished from a specific decade from the 1960s to the present – flying ducks on the wall and all.
These rooms use infographics to explain the potential fire and CO risks in a property and details the products suitable to install to protect residents. Applications boards display how products can be interlinked with third party systems such as warden call systems and gas shut off valves.
A hands-on training room is located next to 'Ember Place' where specific training courses for customers will be held, including the Aico Fire Products Trained Installer Scheme (AFPTIS) which has been designed for electrical contractors.
Running across the length of the first floor is a large meeting room which can accommodate up to 50 people and a break out area with seating and desks.
The launch of the Centre of Excellence is the first event in 2015 to mark Aico's 25th anniversary.  Tours were conducted around the Centre following a ribbon cutting ceremony by Michael Guinee, Managing Director of Aico and parent company Ei Electronics.