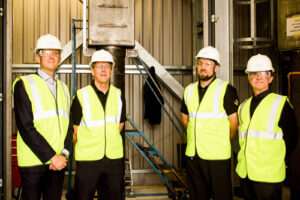 A Midland technology company has played a key role in supplying equipment for the owner of the world's largest elevator testing tower.
Bromsgrove-based Ecl-ips has installed and advised on a network of time-lapse CCTV systems in a 32-metre high test facility for Coventry-based Oleo International.
The contract saw Ecl-ips installing digital systems and software to record the tower's construction and vital safety data during the testing of buffers which are designed for high speed elevators.
Working in partnership with film maker Paul Duffy from Diamond Ocean, Ecl-ips installed the cameras in the tower through the nine-month project.
Aaron Kernaghan, managing director of Ecl-ips said: "I am delighted that our knowledge on CCTV systems and software was recognised by Oleo International and the project lead, film maker Paul Duffy. It was a challenging project but our team rose to that challenge – especially on the technical and installation side.
"It's a tremendous coup for us to work with such a respected global company as Oleo International and we hope it will lead to us securing further contracts in the multi-million elevator sector."
Paul Duffy, managing director of Diamond Ocean and an advisor to Oleo International, added: "Aaron and the team at Ecl-ips delivered everything we wanted and more on what was a rare, but high-profile project. They had exactly the right experience and commitment needed to make it happen."
Pic (L-R): Aaron Kernaghan, Phil Seedhouse, Scott Ashenden and Paul Duffy