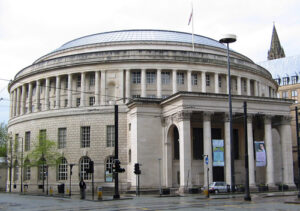 Axis cameras have been installed in the Grade II listed Manchester Town Hall Extension and Central Library as part of a redevelopment of the Council's central accommodation. Axis Communications and partner Grantfen Fire and Security (Grantfen) developed a solution that combined network cameras with Genetec's Security Centre video management software. To effectively cover the 680,000 sq ft area of both sites, the surveillance specification for the project included over 200 cameras.
Atul Rajput, regional director, northern Europe at Axis said: "The civic nature of Manchester City Council's sites means that buildings must be secure, while remaining open for public access – for meetings, enquiries, transactions and admission to other facility services – all of which can present a security challenge. The council further specified that the project must include cameras that were aesthetically pleasing and did not diminish or detract from the look of the historic buildings.
"To meet these requirements, we deployed our Axis M3005-V fixed dome network camera as part of an integrated solution, featuring intrusion detection, fire alarms, a building management system, emergency lighting protocols, flood and leak detection, lift alarms and network-enabled intercoms."
The new system replaced an assortment of mismatched legacy analogue CCTV systems which had been fitted over time in both the Town Hall Extension and Central Library buildings. Both sites were controlled by various incompatible management software packages and concerns were raised that, as the historic security system aged, its vulnerabilities were becoming pronounced and it was essential that archived video footage was appropriately safeguarded.
Custom integrations were designed between the Axis and Genetec systems meaning that alarms would be relayed to a centralised control area in case of emergencies, with detailed procedures added to instruct security operators how to proceed in the event of an exception alarm. Capabilities like people counting were also included in the Central Library to allow the council to verify visitor numbers.
In the case of the Central Library entrance, mounting a camera proved a challenge because of the door's unusually narrow transom, which was too small to accommodate most surveillance cameras. The Axis P1214 miniature HDTV pinhole camera was selected to account for this discrepancy and to allow subtle and discreet surveillance in this high-visibility area.
Ian Jackson, sales director at Grantfen, concluded: "This technology is steering Manchester City Council towards greater efficiency and improved customer service. Despite more access being granted to the public, the new security system has made the buildings feel more secure and the management team confident in the knowledge that Manchester City Council staff, visitors and important archive documentation are all being effectively protected."