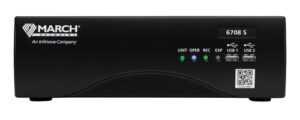 March Networks has announced the launch of the 6708 S Hybrid Network Video Recorders (NVRs) that supports up to eight cameras, offers intuitive software for fraud identification and store operations monitoring for easy transition to high-definition (HD) IP video.
Serving as the backbone of a complete retail security solution, the 6708 S Hybrid NVRs provide the same reliability, centralised management and image quality available with the company's 32 and 16-channel 6700 Series recorders. They support eight IP cameras or any hybrid analogue/IP camera combination, making it simple for retailers to deploy IP cameras and capture the sharper, more detailed HD video needed to better identify bill denominations, faces and other details in a scene.
Designed with smaller-footprint stores and standalone kiosks in mind, the NVRs include an optional, tamper-resistant rear enclosure to prevent unauthorised access to video, power, I/O cables and connections, and optimised cooling to ensure problem-free operation in confined spaces. In addition, QR codes on the front of the recorders work in conjunction with March Networks' free GURU smartphone application to speed installation and maintenance, saving technicians time and reducing service costs.