Winner: Hikvision DS-2CD2087G2-LU
Hikvision UK & Ireland is thrilled to be a PSI Premier Award Winner in the CCTV Product of the Year category for the Pro Series Mini Bullet Camera with 8MP and ColorVu technology
The DS-2CD2087G2-LU Pro Series Mini Bullet with 8MP and ColorVu technology is a mini-marvel, pairing its small form factor with powerful cutting edge features – an accessible, performance-orientated device designed to make end user systems as effective and efficient as possible, both in detecting threats and in searching for evidence.
The camera features high-quality, 8MP resolution for detail-packed pictures, along with ColorVu technology for 24/7 full colour images in even the darkest of lighting conditions. Cameras with ColorVu technology employ advanced F1.0 lenses and high-performance sensors. That F1.0 super aperture collects more light to produce brighter images: four times the amount of light as a conventional camera. Its advanced sensor improves the utilisation of the available light, with self-adaptive 3D Digital Noise Reduction removing noise and ensuring full motion video. It can capture full colour images down to as low as 0.0005 lux and has a smart supplemental white light for zero-light conditions.
It also includes AcuSense technology for automatic human and vehicle target classification and reduced false alarms, as well as an in-built microphone for real-time audio security.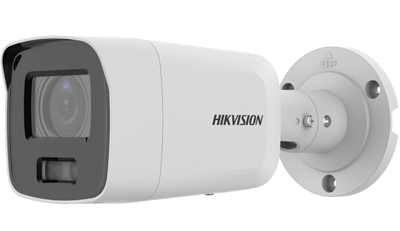 The Pro Series Mini Bullet Camera makes the most of its transmission capabilities by using efficient H.265+ compression technology to provide high-quality images while preserving bandwidth, and offers up to 256GB of local storage if required. The camera's 130dB WDR technology means clear pictures can be obtained even in strongly backlit scenes. It is IP67-rated water and dust-resistant.
Amazingly, this is the sixth year running that Hikvision has won the coveted CCTV Product of the Year Award in the PSI Premier Awards. It's recognition that we are truly grateful for and delighted to receive, and particularly special for us because the winners are voted on by the readers of PSI magazine, the very installers and specifiers who are hands-on with the products every day. They know what they're talking about, and we appreciate their ongoing support. Our award win is an acknowledgement of the hard work of Hikvision's R&D and product development teams, and the company's commitment to new product development and technological innovation.
We'd like to thank those readers of PSI magazine for voting for Hikvision. It means a great deal to be recognised and rewarded by our partners and peers in the UK security surveillance industry. And we'd also like to thank PSI magazine and everyone involved in the PSI Premier Awards for consistently organising these highly respected reader-voted awards.