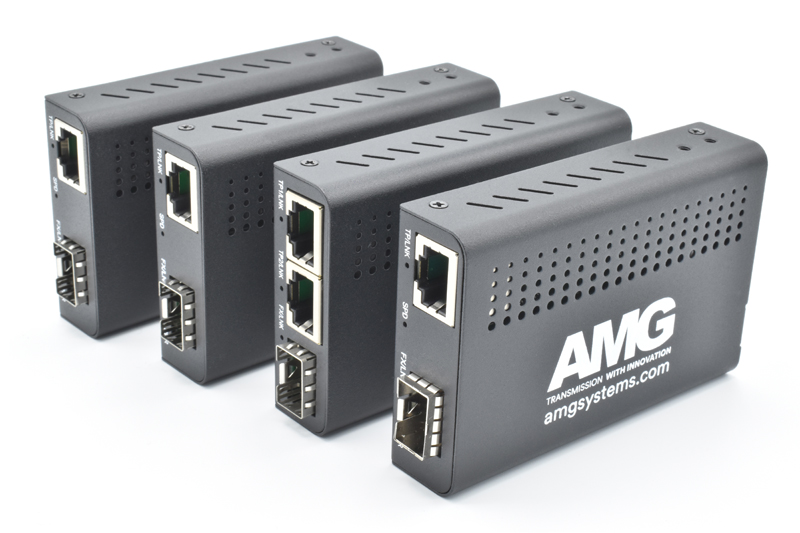 AMG Systems has released the AMG210M series of ultra-mini SFP media converters designed for commercial applications (0-50°C). The new range includes options for 100Mb, Gigabit and 10 Gigabit Ethernet transmission.
Built into the 90x60x20mm housing, the AMG210M series is available in four variants; including a 100Mb media converter, a multi rate media converter (100/1000Mb), a dual port multi rate media converter (100/1000Mb) and a 10GB SFP+ media converter.
Each unit features user-selectable DIP switches to allow the configuration of features such as link fault pass-through, where the loss of either the RJ45 or SFP will cause the corresponding port to link down, enabling a fault to be detected by other connected devices. Other configurable features include, port isolation, jumbo frames, automatic laser shutdown and SFP speed selection.
Supporting network continuity, the mini media converter's automatic reset function detects if a fibre connection is lost, and automatically performs a power cycle to try and  re-establish the link, reducing system downtime and engineering callouts.
All of the AMG210M series media converters ship with an in-line style wall mountable power supply and can be deployed standalone or wall mounted using the included mounting kit. For additional installation flexibility, the optional AMG210C high density chassis with dual redundant PSU's allows up to twelve AMG210M series media converters to be rack mounted into 1U of space making it ideal for applications where rack density is a key requirement.
"We've designed the new mini SFP media converters to support the transmission of video and data systems in commercial environments, such as airport terminals, university campuses, large retail premises, shopping centre's and distribution warehouses," says Tom Exley, Technical Director, AMG Systems.