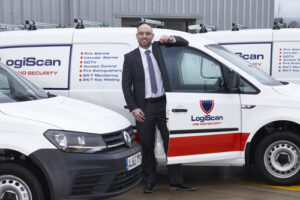 LogiScan has made a key appointment as part of its current business growth strategy. The Somerset company has recruited experienced industry professional Adam Cowling as a Systems Design Engineer, a significant role in the delivery of its fire and security services.
Andrew Humphries, Technical Director at LogiScan, said the appointment of Adam would enable the company to put the next phase of its business development plans into action.
"This is a tremendously exciting time for the business as we look to widen the scope of services and seek to secure new clients, as well as offering a much enhanced service to our existing customer base," said Andrew. "Adam's appointment is a key element of that process and will help us to build significantly on our fire and security provision. His knowledge of the IP CCTV marketplace, which is a rapidly growing business sector, will be invaluable as we look to further develop and enhance our services and products.
Adam's role will be to liaise with major clients, such as electrical contractors and facilities management companies in the design of large scale fire and security systems, using the latest technology. He will work with drawings to help clients find the most suitable and appropriate systems for their particular environments and advise on the best approach to installation.
Adam has considerable experience within the security industry and has specialised in recent years in the design and specification of large integrated systems and IP based security solutions.