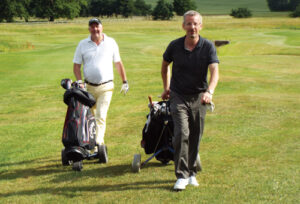 This year the PSI Golf Day and Premier Awards are returning to Brocket Hall near Welwyn Garden City on 14th July.
In 2016 the PSI Golf Day and the Premier Awards will return to Brocket Hall, one of the most intriguing of any of the great houses of Britain. With a rich and varied history, the scent of scandal can be found in the fabric of the building back to its roots in the 13th Century right up to the present day. Brocket Hall, as it is known today, was built by renowned architect James Paine for the owner Sir Mathew Lamb in 1760. However, the Hall stands on the site of two predecessors, the original of which was built in 1239.
The PSI Premier Awards Dinner will take place during the evening of 14th July, when we will announce who the winners are of the industry's only Awards campaign based on the votes of security installers. Following the meal and presentations there will be after-dinner entertainment and the chance to unwind in the luxurious surroundings of Brocket Hall.
During the day, the annual PSI Golf Day will pit the skills of the industry's golfers against each other. Every year installers, manufacturers and suppliers compete for the prestigious trophies on the championship golf course and enjoy refreshment at the luxury Clubhouse on the banks of the Broadwater Lake. Brocket Hall Golf Club is one of the UK's most exclusive golf venues and a fantastic venue for our Golf Day and we return in 2016 by popular demand.
For those looking to stay overnight the Regency stately home boasts 30 luxurious double bedrooms, all of which are named after individuals who have either lived in or been closely associated with Brocket Hall. Suites are decorated with period antiques, oil paintings and beautiful wallpaper. Providing breath-taking views across the country estate, the luxury accommodation retains a quintessentially British look and feel, while reaching modern standards, befitting Brocket Hall's international reputation.
For more details on taking part contact David Lewis on 0208 295 8309.