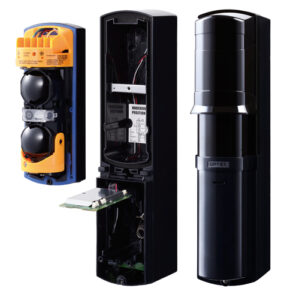 Optex has extended its range of SmartLine active infrared beams with the SL-TNR series, wireless and hybrid, entry-level outdoor active beam for simple point-to-point applications.
The SL-TNR series includes two models: a 30-meter SL-100TNR and 60m SL-200TNR outdoor battery-powered active beam that is suited to protect small perimeters, open areas and driveways. The sensor has been designed to work with both D-sized lithium batteries as well as CR123 batteries, when using optional battery-holders (CRH-5), which are all included in the SL-TNR-CH package.
Four D-sized batteries fitted within the receiver and transmitter will reportedly provide up to five years' operation; 16 universal batteries will last up to one year.
The SL-TNR photobeam includes a hybrid option of a PCU-5 power converter, so the receiver can be hardwired and the transmitter battery-powered. It is ideal for situations when the receiver beam is on a building wall close to a main power source and the transmitter is too far from it. SL-TNR beam sensors also feature a back box that can accommodate most of the available wireless radio transmitters on the market, making it easy to add a wireless perimeter alarm to an existing indoor wireless system.