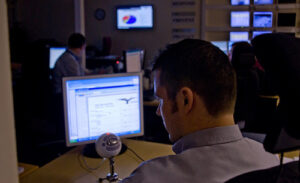 Farsight Security Services is launching a CCTV package, SureSight+, which offers installers and customers the opportunity to harness cloud security monitoring and IP technology in one step.
The SureSight+ package, includes:
cloud-enabled IP surveillance cameras from Axis Communications
Optex detectors
access to the cloud
local, secure storage for high-resolution video
SureSight remote monitoring from Farsight Security Services
Rob Moore, managing director of the security services, said: "With SureSight+ installers and clients will receive notifications of incidents and faults directly from the site. Both parties are in absolute control with 100 per cent transparency from Farsight."
SureSight+ enables installers to remotely maintain IP security systems via the cloud, reportedly  therefore reducing time and money spent travelling to sites.
Rob Moore says: "We understand that network video needs to be implemented properly, to ensure systems are completely secure. Using SureSight+ means that installers will also benefit from our IT expertise with unlimited technical support."
Daren Lang, business development manager at Axis Northern Europe, explains: "We have seen a significant take up in VSaaS deployments in recent years and there are many advantages that the Farsight implementation brings to the remote monitoring market in terms of high quality video surveillance, ease of deployment, cost savings and above all quality of service."