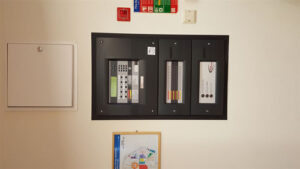 With the number of unwanted alarms reaching intolerable levels, Calderdale Royal Hospital installed technology from Notifier by Honeywell to solve the problem.
Calderdale Royal Hospital's mental health and learning disability facility is a large specialist unit. Dan Lewins, Estates Manager at Cofely GDF Suez, which manages the site, says: "Unfortunately, patients within this part of the hospital were deliberately activating smoke detectors located in their rooms using steam from showers, aerosols and cigarettes. The problem had escalated to a level where the local fire and rescue service was being called out several times a week."
To address the problem, Calderdale Royal Hospital contacted Rosse Systems to find out what could be done. Central to Rosse Systems' proposal was the replacement of optical smoke detectors with Notifier's SMART4 devices.
"SMART4 dynamically adjusts the detection profile of the device in response to the input from the sensors," explains Derek Portsmouth, National Sales Leader UK & Ireland at Notifier. "It normally operates at a high immunity level, changing to become very sensitive to fires when fire characteristics are sensed. In this way transient nuisances are monitored and ignored and the detector thinks before activating."
The existing control panels were replaced with Notifier's ID3000 products, which can accommodate between two and eight addressable loops. Each loop can support up to 198 devices, with a total of up to 255 zones per panel. The Calderdale Royal Hospital also benefits from Notifier's ONYXWorks system, a single-point of control, PC based, graphical workstation which displays information directly from the fire detection system, presenting floorplans, as well as a history manager that tracks, stores and filters events for viewing.
Since the SMART4 devices have been installed, unwanted alarms have been eliminated, which is not only good news for staff, patients and visitors but also the local fire and rescue service.