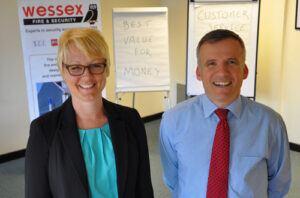 Wessex Fire & Security has appointed Jessica Lutwyche as its Service Manager, overseeing a 30-strong team of engineers, technicians and admin staff. The company is part of the Wessex Group that Jess joined eight years ago in an administration role.
After moving to the fire and security business she was quickly promoted to Small Works Installation Manager before being appointed to the new position. The role means she also joins the Senior Management team of Wessex Fire & Security, headed by Managing Director Chris Stott with Paul Budden, Installation Manager, and Tracey Martin, Quality Manager.
Chris Stott said: "Jess is extremely customer-focussed and is actually one of the group's customer service coaches.  She will be a good addition to an excellent management team. We are a business that is growing and part of an industry within which the technology changes quickly and Jess's energy and enthusiasm will be important as we go forward."
Pictured (L-R): Jessica Lutwyche and Chris Stott.