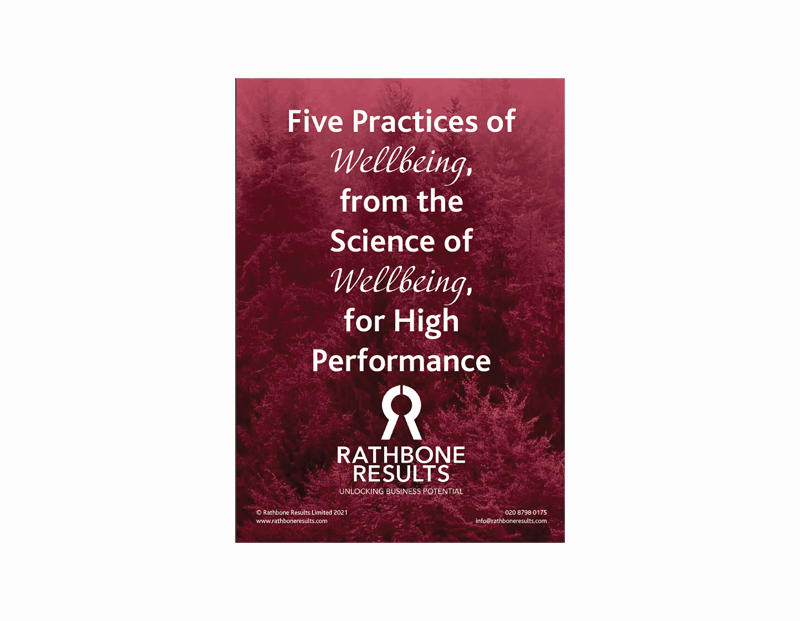 Business experts and long-time PSI contributors Rathbone Results has developed an e-book entitled The Five Practices of Wellbeing, from the Science of Wellbeing, for High Performance.  These five wellbeing practices were delivered globally by Rathbone Results Partner Cora Lynn Heimer as a series of five 15-minute webinars in December 2020, with several hundred managers and leaders attending.
Great organisations have long known the value of creating great places to work. In the war for talent and the quest to constantly improve productivity, investment in workplace wellbeing has been a feature of leading and admired companies.
In our challenged world, with sky-high levels of uncertainty, the science of wellbeing is more relevant than ever. So what can we do differently to embrace and promote well-being for ourselves and for others – to survive AND be productive AND thrive?
The e-book covers some profoundly simple practices to increase our wellbeing, all backed by substantial research in neuroscience, happiness and positive psychology and should be of real interest to companies in the fire and security sector.
Discover the importance of:
Fostering social connections – Relationships are fundamental to wellbeing AND productivity.
Focusing on strengths – We'll feel better in ourselves, be more open to learning and deliver greater results.
Savouring the Moment – For clearer thinking, greater physical presence, better emotional control, all three of which contribute to higher performance.
Acts of Kindness – which add to the wellbeing of the giver and the receiver, so it works to the power of 2!
Gratitude – and how it fuels positive thinking, reinforces a growth mind-set, unlocks performance.
Download the FREE e-book here