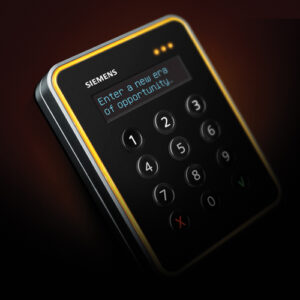 Vanderbilt Industries has announced that it has entered into an agreement to acquire Siemens' Security Products business, part of the Siemens Building Technologies Division. The business will be renamed Vanderbilt International. Security industry veteran Joseph J. Grillo will be Managing Director, working from the new operational headquarters in Germany.
"The acquisition of Siemens' Security Products, which fits our corporate strategy perfectly, matches Vanderbilt's solid foundation and strong legacy built from nearly three decades in the security industry," said Joseph Grillo. "Vanderbilt saw an opportunity to expand its product offering and geographic market coverage. The addition of SP represents significant value potential with its established installed base of customers and loyal resellers. The market trend is for integrated security management systems and more open solutions from trusted suppliers. SP clearly provides a vehicle to offer these solutions to a broader customer base."
Siemens' SP consists of products in the access control, intrusion alarm, and video surveillance categories, which complement Vanderbilt Industries' integrated product offerings. The acquisition includes brands as Bewator and Cotag in the access control segment and Alarmcom and Europlex in the intrusion alarm space.
In an exclusive interview with PSI magazine, Lynn Wood, Product Portfolio Manager with Vanderbilt Industries said: "The most noticeable change (for UK customers) will be the brand name.  Because the acquisition will not include the Siemens brand name, Vanderbilt International will become the new company name. Vanderbilt International will go back to using many of the long-established names of the product companies Siemens acquired in the 1990s and 2000s that led to the creation of SP, such as Bewator, Cotag, Europlex and Alarmcom.
"The second most noticeable change will be the company's sole focus on its strategy of maintaining and growing its leadership position in offering integrated security systems incorporating Access Control, Intrusion Alarm and Video Monitoring systems.  Now there is a singular purpose and strategic focus on being a product-centric company.
"Customers will continue to receive the same products and services and have the same sales, service and support contacts. As significant as this acquisition is, the overall result for our customers is really quite simple:  the same great people will continue to offer the same great products. There will be no interruptions to our world-class service and no interruptions to the flow of products from both SP and Vanderbilt Industries.
"All products will continue to be offered by Vanderbilt International to the markets where they are currently available. Product lines will also continue to evolve through technology innovations and in response to market demand," concludes Lynn.
Financial details of the transaction were not released. The transaction is subject to customary closing conditions. The closing of the transaction is expected to occur by the end of the first quarter of 2015.