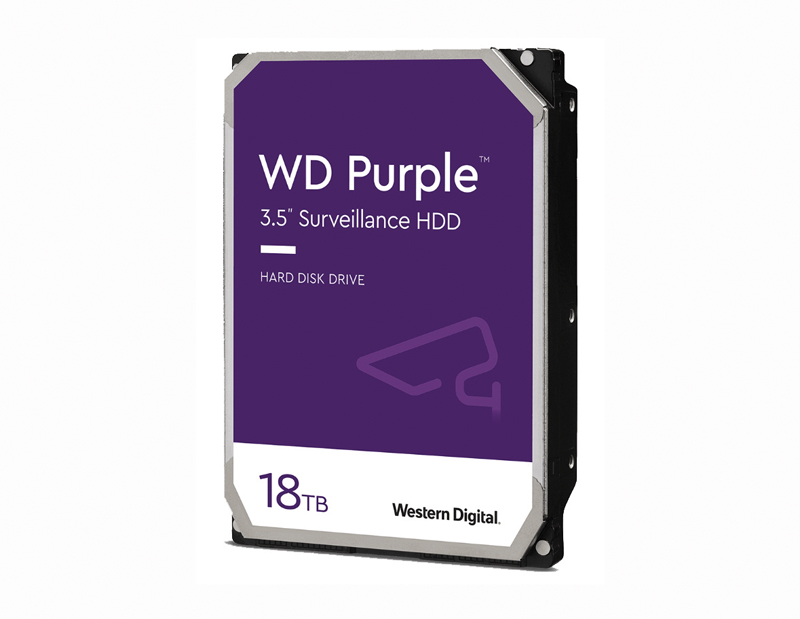 The Western Digital Purple range of hard drives is designed specifically for surveillance applications with a variety of capacities from 1TB up to this 18TB model. They are designed for 24-hour, all-year-round operation with an emphasis on continuous write-cycle time. The drive is said to support up to 64 HD cameras and is optimised for AI based read / write requirements with an additional 32 AI streams.
Hardware
This is a conventional 3.5" form factor hard drive with SATA 3.0, 6Gb/s connectivity. Its dimensions are approximately 147 x 102 x 26mm and with a weight of 0.69kg.
The 18TB drive has a 512MB cache and rotates at 7200rpm. Although not stated on the specification sheet the drive appears to be built around 9 platters handling 2TB of data each.
The drive utilises a number of specific developments to achieve the very high storage capacity available. The process is CMR based (conventional magnetic recording). The read/write head assembly includes piezo micro actuators to allow precise tracking and finer track widths, this is in the form of a multi-stage actuator suspension, allowing greater accuracy of head positioning with minimal arm assembly movement. This allows the higher track density to be used and assists with robustness in more extreme environments such as multi-drive bays where vibration is likely to be increased.
The drive itself is hermetically sealed and helium filled. This HelioSeal technology which is in its 6th generation since being introduced in 2013, reduces internal drag and turbulence when compared to air filled drives. A further result is improved temperature control and the capability to use thinner disk platters.
The drive is given a 360TB / year annualised workload rating and a 3-year warranty.
The SATA data and power connectors can accept latching connectors for secure terminations. An adjacent two pin connector on the drive is unidentified. The drive is designed for use in single or multiple configurations with no limit to the number of drives in a bay.
Configuration
The drive is supplied unformatted so must be suitably initialised and partitioned before use unless being used in a compatible recording system with firmware that supports and controls such large storage. Within Microsoft Windows, this drive must be initialised as GPT (Guid Partition Table) to overcome the 2TB limit on legacy operating systems. With a simple volume set the drive reports a maximum useable diskspace of 16.3TB.
The new diagnostic tool Western Digital Dashboard supports hard drives and is primarily targeted at Desktop usage.
 Read the full review in the March 2021 edition of PSI magazine