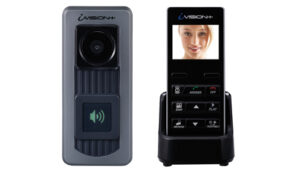 As supplied the standard iVision+ package includes one Handheld Monitor Unit and one Door Unit. The monitor unit and door unit are already "paired" together using a "Home ID" unique identification number. An additional door unit can be added to the system for front and rear door use and three more monitor handsets can be added if required. Additional items are simply linked in using a pairing button.
An optional Gateway Chime Unit is available to provide an additional sounder and to give a relay output to release a suitably controlled door.
As with all such 2.4GHz devices the range may be severely limited by building structures and metallic surfaces so it is sensible to test for actual performance before permanently fixing in place. The manufacturer's website includes a useful guide to the attenuation of signal for various construction materials.
Getting started
Ease of installation is a major benefit of this system. The monitor handset charging cradle can be desk or wall mounted close to a suitable mains power socket. The door unit should ideally be powered from a local power supply source but can operate on battery supply for reasonable periods of time. Three AA cells can be fitted internally; the installation guide states that these should last 12 months, but this is based on just three ten second activations per day so a suitable calculation will need to be made for higher usage levels.
Both the Door Unit and the Gateway unit have removable back panels that can be fixed to the wall with their pre-drilled fixing holes serving as a template for any necessary drilling.
Setting-up the system is relatively simple although it did take some time for the monitor handset to initially charge to a suitable level for operation to begin.
The door unit can operate on battery supply and while this may not be advisable for permanent installations could be useful for temporary set-ups and is very helpful to confirm operation in potentially difficult locations where building structure or electrical noise could be a problem.
While battery operation of the door unit worked well, the use of an external power supply (not supplied) gives the advantage of an illuminated bell push symbol and the ability to view the live image from the camera and hear any external sounds by pressing the "Browse" button on the handset.
Read the full review of the system in the October 2015 edition of PSI magazine