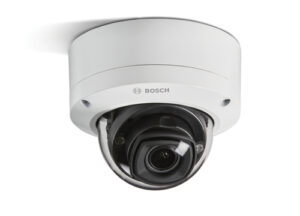 Part of the Bosch Flexidome IP 3000i IR range, this fixed dome camera is impact resistant to IK10 with IP66 protection rating and has a 1/2.9" 5MP CMOS sensor, 3.2 to 10mm motorised lens and a range of "Essential" video analytic functions. It has a diameter of 137mm and height of 122.5mm. It has an operating temperature of -30°C to +50°C.
Getting started
There is very little information supplied with the dome; the Quick Install Guide simply shows mounting instructions in pictorial form. An Operation Manual for the 3000i range can be downloaded from the Bosch website and this gives comprehensive information on configuration.
To gain access, the dome cover must first be removed by loosening three captive Torx security screws. This gives access to the connections; an RJ45 for PoE network, a 2-pole connector for optional 12V power and a 6 way connector for audio and alarm inputs and outputs. These connectors are removable for ease of access, but the screws do require a very small terminal driver to secure the cables. A reset switch in the base plate can be used to restore factory defaults.
The camera uses a fixed mounting plate which again uses three captive Torx screws to secure the dome to it. In practice, this is more likely to be used as a drilling template than the supplied sticker.
[sam_ad id=15 codes='false']

Two rubber grommets in the base of the dome can be used to feed the network and any additional cables into the unit.  Additional sealing will probably be necessary in this area to prevent moisture ingress when mounted externally. An additional note in the box suggests minimum cable diameters of "4.5mm for the single hole grommet and 2.5mm for the two-hole grommet.
The camera module is mounted on a "U" shaped bracket that can be rotated for horizontal positioning; two crosshead screws on either side of the bracket can be released to adjust the vertical angle of view. Idents on the chassis show angles for use in site layout calculations.
A regular switch or injector PoE port can be used to power and communicate with the camera with a typical demand of 3.5W and a maximum of 10.5W.
Operation
DHCP is enabled by default so the camera is relatively easy to locate on a network or can be easily "discovered" using the Bosch IP Helper tool that helpfully can be run directly from the website without installation onto the PC. The camera network identifies as a VCS Video device (the Bosch acquisition) from its MAC address.
Read the full review in the January 2020 edition of PSI magazine