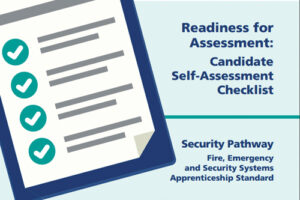 Hand-in-hand with the FESS apprenticeship standard comes a concept that will be new to security employers and installers – the End Point Assessment (EPA). What's this? It's a final, in-depth review of an apprentice's skills and knowledge so they can prove they are competent in the job they have been training for. They must complete this assessment before they can pass their apprenticeship.
Historically, for many industries, apprentices have been continually assessed throughout the course of their apprenticeship. Now, the new EPA must be taken at the very end of the training programme, as a way of testing the knowledge, skills and behaviours that have been learnt throughout the apprenticeship.
For some trades such as the electrical industry, the practice of having a final test at the end of an apprenticeship has been around for years, but this is a completely new way of working for the fire and security industry.
What's in the assessment?
The EPA has been designed by the same Employer Group responsible for the Apprenticeship Standard, to ensure the apprentice is being assessed in line with industry needs and current working practices.
It's a comprehensive two-day assessment with practical skills tests in areas such as safe isolation, takeover of an existing installation, additions to existing systems and commissioning. Candidates' knowledge on health and safety, electrical and electronic principles and a wide range of other areas is also tested and, importantly, a Professional Discussion is included to allow the candidate to demonstrate they have effective behaviours that will build and retain trust with customers and colleague.
NET is the industry charity responsible for the creation and delivery of the EPA via licensed 'centres' that candidates must attend to undertake the assessment. NET also works closely with the FESS Employer Group which plays an important role not just in the planning and ongoing development of the EPA, but also reviewing the performance of candidates and, in turn, the quality of training these candidates are receiving from training providers.
For more information see the January 2020 edition of PSI magazine