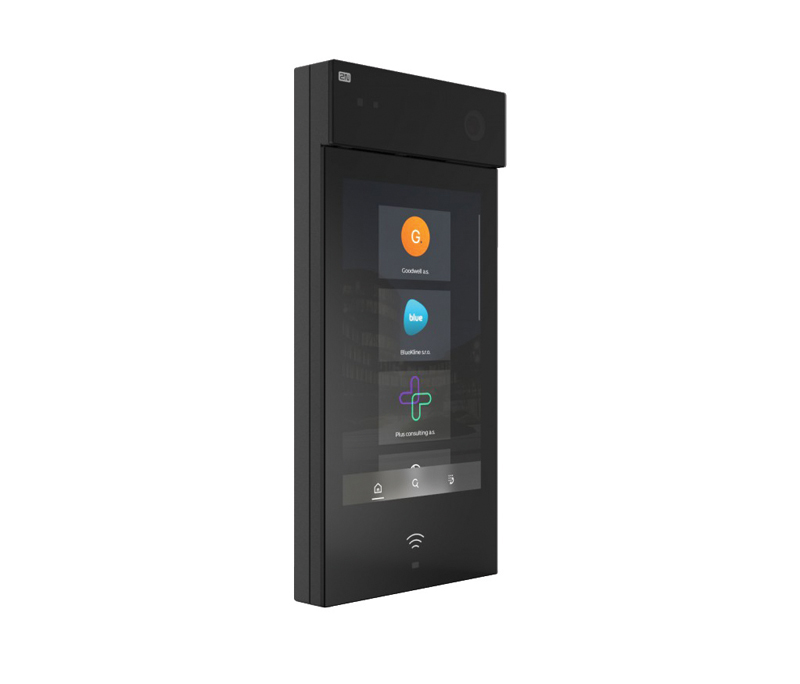 This video intercom from 2N features a 10"touch display boosted by the Axis ARTPEC-7 processor, full-HD camera and WaveKey technology. The unit is rated IP65 and IK08, meaning that users can touch the display even if there is any water on its surface.
Getting started
The brief manual supplied is primarily technical information for the unit, but on the website there are multiple installation and set up manuals for the system. Though the website is not massively mobile friendly, it is manageable to get the information required.
Installation is made easy with their patented tilt bracket design that allows the rear bracket to be mounted and the unit to be easily slid on, freeing up both hands during installation. This being said – do not throw away the box! The inside lid of the box contains the mounting guide, without it, new users to this product will find it troublesome to remove the main unit.
For unit configuration, this takes place typically via a web interface. Alternatively, configuration is possible using the 2N Access Commander software or the My2N service. Basic set up is fairly straight forward, once powered on using its POE connection located on the rear of the unit, it is pretty much ready to go.
Performance
Like other access and door entry systems, the 2N is programmable with RFID and Code authentication, but 2N do one better through the use of 2N mobile Key, which is an authentication mode allowing users to operate the door switching using their mobile device. It can work either by:
Touch mode – press or drag the Bluetooth symbol from left to right on the display (depending on the Bluetooth authentication setting) to activate the switch.
Tap in app mode – unlock your smartphone, open the app and press the virtual button to activate the switch.
Motion mode – motion has to be detected by the intercom camera to activate the switch. Arrival in the proximity or waving of the hand will do.
Card mode – move your smartphone close to the integrated RFID card reader to activate the switch.
This 2N mobile key function provided access in 1–2 seconds during testing which is very fast compared to others available on the market.
Read the full review in the May 2022 edition of PSI magazine