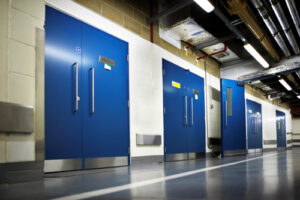 With an average of 174 buildings catching fire each day, it's time for door hardware to be taken seriously and recognised for the important role it plays in fire safety. Simon Osborne, sales leader UK and Ireland at Allegion, offers six steps to improve the effectiveness of fire doors through the installation and on-going maintenance of fire door hardware.   
Despite their importance, it's common to see fire doors that are wrongly specified and fitted, constantly propped open and therefore pointless, or left damaged through misuse. Plus, fire door hardware and furniture, which includes closers, hinges, and essential ironmongery, is often overlooked and it's usually these products that are the first to be downgraded during specification.
A quick look at the role that hardware plays in a fire door set makes it obvious why it's such a mistake to devalue it. After all, something as simple as an incorrect hinge can produce a life-threatening gap between the door and the frame that allows the flames to spread, whilst a mal-functioning handle can cut off a vital escape route.
Fortunately, making positive change is not only easy to implement, but can be instant to apply. A simple hardware checklist that goes through the following six steps can add real value, both during the installation stage, and throughout periods of maintenance.
Door furniture
A simple door handle can make all the difference when the outbreak of fires makes a speedy exit a matter of life or death. Check that the handle operates smoothly and freely returns to a horizontal position. All screws must also be tightened.
Also – if a fire door on an escape route needs to be locked for any reason, it shouldn't require a key to be opened.
Hinges
Don't forget to inspect the hinges as they can dramatically impact how well the fire door opens and closes. Plus, they have a vital role to play in preventing the spread of flames by creating a reliable seal between the door and frame.
Check that there's a minimum of three hinges, all with securely fitted screws. Look out for signs of wear –is there any oil leakage or are there metal fragments present?
The quality of the hinges also has an impact on the effectiveness of the fire door. Make sure the hinges you use are marked with a CE stamp or that they're BS EN 1935 grade 13.
Locks and latches
Again, an unsuitable latch can cause a gap which makes the seal between the door and the frame pointless. The latch should hold the door firmly in place without rattling and engage fully into the strike plate.
Door closers
It's not uncommon to see a fire door propped open, particularly in high traffic areas such as offices or public corridors. An incorrectly specified closer (usually one that is too difficult to open or too powerful when closing) is often behind this problem. It's always worth talking through the specification of the product and considering the potential impact of basing the purchasing decision purely on price.
As well as the closer again being securely fitted, it should be free from any damage or oil leakage.  This should mean that when the door is opened to 5˚ or 75 mm, it will close and engage with the latch.  If unlatched, the closer should hold the door in line with the frame and intumescent seal.
Signage
A very simple oversight is forgetting to apply the correct signage to the fire door. By ensuring prominent signage, it's hoped that propping open the door will be discouraged and regular maintenance will take place.
Exit Devices
Finally, all panic or emergency exit devices should be tested to ensure they are functioning correctly. Make sure to check the fixings of the operating device; tighten any bolts or strikes if needed.
Ultimately, making subtle changes at all stages, from supply and specification, to operation and inspection, can encourage improvements in fire door standards.