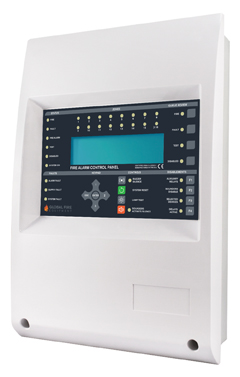 Global Fire Equipment (GFE) has launched G-One, an addressable single loop fire control panel with connectivity.
The G-One panel can be either surface or recessed mounted and is CPR Certified to EN54-2 and EN54-4. The G-One offers Chameleon peer-to-peer multi-master network communications and is capable of being networked with up to 32 fire control panels from the GFE range. The control panel has a digital protocol for resilient monitoring and data communication with up to 250 devices on a single loop. Cause and effect programming capabilities along with system diagnostics performance are offered by the panel.
The panel boasts an automatic self-learn facility, which continuously auto-learns, without human intervention, bypassing the traditional manually initiated auto-learn process.  The G-One also features a back-lit blue graphical LCD display, which ensures a clear and effective user interface.
G-One is fully compatible with all GFE-manufactured digital analogue-addressable loop devices and its menu structure is identical to existing GFE panels.