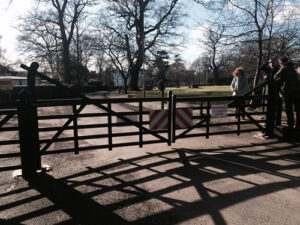 Delta Security has installed a new access control system in Oak Hill Theological College to protect students, residents, employees and property. Installations include a Salto Access control system, including ID passes and ad hoc printable passes, and new automatic electronic gates at the college entrance.
Tim McMahon, Operations Vice Principal at Oak Hill Theological College, says key to the new system was that the college had more information on access usage and greater control over what access was given to different parties:  "Oak Hill is different to many educational establishments in that not only do many of our students live at the college, but their families do too. This means we have to accommodate access for young families and teenagers, as well employees and deliveries. A flexible access system was critical in order that we could strike the correct balance between user-friendly convenience and a high level of security."
The system has been designed so that the college can tailor access according to the user's needs. It also needed to accommodate different entry 'media' including ID cards, codes and help buttons that transfer to either reception or relevant mobile numbers.
Tim had experience with Salto Access systems and so had a good idea of its capabilities: "I knew what I wanted to achieve and the Delta engineers have been excellent in helping us to realise these goals. The gates, for example, are integrated with the fire alarm to open automatically in the event of an alarm activation to give access to the fire brigade.
"We now have a system that works as we want it to, and because it is IP-based it is future proof, so we are able to utilise additional capabilities as and when budgets allow."