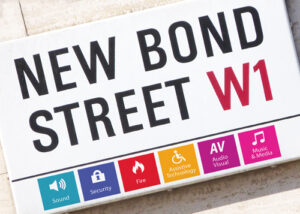 PEL Services has been appointed by three fashion brands to fit out their stores with sound, security and fire alarm systems in New Bond Street, London. Hugo Boss, Fendi and Jimmy Choo's stores have been fitted with fire alarm and access control systems with CCTV, intruder alarm and Electronic Article Surveillance (EAS) systems, plus Bose music systems, fitted at two stores and a video wall for Hugo Boss.
Ken Faulks, Managing Director of PEL Services, said: "The top names in high end retail fashion deserve their strong brand image by means of hard work, quality merchandise and attention to detail. Determined not to compromise this in any way, they make sure that those that support them can do so reliably and consistently throughout their field of operation."
PEL Services provided a package of systems and support services and believe that, because the stores are using one company to provide this range of services, there is a genuine economy of scale in both the actual cost of the work and the project management.
"So, when these stores open for business, it will be in the knowledge that the systems that keep them safe and secure, and that provide the customer with an enhanced experience in the case of the sound systems and video walls, are installed and maintained by an organisation that believes that each project is a measure of its competence and ethos," says Ken.