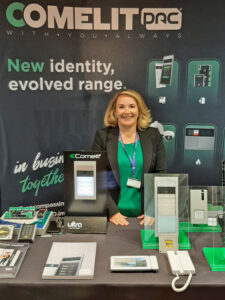 Comelit-PAC has appointed Sam Alliston as a new Business Development Manager, responsible for supporting customers in the London Southern region.
Sam arrives at Comelit-PAC with dedicated experience in the door entry market, working for different manufacturers in the industry, focused on residential and commercial markets.
As a new member of the team, Sam will now be responsible for supporting new and existing customers to utilise and maximise Comelit-PAC to its full potential, with a presentation of its product portfolio, including door entry, IP access control, home automation, CCTV, intruder detection and fire safety.
"I'm excited to embrace my new role and continue to help Comelit-PAC better serve our intermediaries and their customers," says Sam. "I'm looking forward to leveraging my previous experience in the BDM team to build and develop relationships with our distribution partners which in turn will allow us to further strengthen our proposition and support a growing number of customers."
Sam will now be working alongside the Comelit-PAC BDM team, assisting with the overall development and growth of new and existing business opportunities. Her focus will be centred on the south London region of the UK where she will be supporting customers, and providing the required support and assistance right from initial design to installation advice.