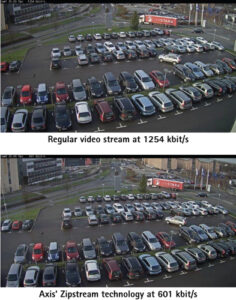 Axis has announced Zipstream compression technology, reportedly reducing storage requirements by an average 50 per cent in video surveillance applications.
Axis' Zipstream technology is compatible with the H.264 compression standard and can be used with Axis cameras and video management software without additional investment. Optimised for video surveillance, Zipstream technology is described as more efficient H.264 implementation, lowering bandwidth and storage requirements by an average 50%.
According to Johan Paulsson, Chief Technology Officer, Axis Communications: "Significant progress towards better image quality with higher HDTV resolutions and increased low-light performance has also increased the requirements on the network and storage infrastructure. With Axis' Zipstream technology we enable our customers to drastically reduce bandwidth and storage needs without compromising on important image details. For example, more than twice the video footage can now be stored on SD cards or NAS's in small systems built on Axis Camera Companion as well as other edge recording applications. Zipstream technology adds a new module inside the network camera's video compression engine which ensures that important details in the image get enough attention in the video stream while unnecessary data can be squeezed."
In real time, scenes containing interesting details are recorded in full image quality and resolution while other areas are filtered out, to optimally use available bandwidth and storage. Important forensic details like faces, tattoos or license plates are isolated and preserved, while irrelevant areas such as white walls, lawns and vegetation are sacrificed by smoothing in order to achieve the better storage savings.