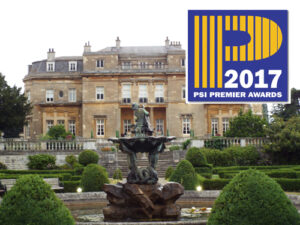 The glorious Romanov Suite at Luton Hoo was a buzz of excitement in mid-July as the winners of this year's PSI Premier Awards campaign were announced by the guest speaker snooker legend John Parrott and PSi editor Andy Clutton. Seven categories covered the best of CCTV, intruder alarms, access control, software, communications, fire safety, distribution and innovation. Plus this year, we were able to recognise the product that gained the most votes not just from installers, but from across the industry.
And so without further ado, let us now reveal the winners:
CCTV PRODUCT OF THE YEAR 2017
Hikvision – DS-2TD2136
The new thermal camera from Hikvision features Auto Gain Control, Digital Detail Enhancement, and 3D Digital Noise Reduction and is equipped with onboard video analytics including line crossing detection and intrusion detection for perimeter protection.
SOFTWARE/SIGNALLING PRODUCT OF THE YEAR 2017
CSL – CSL Connected
In partnership with Pyronix, Texecom and RISCO, CSL Connected combines critical connectivity with the alarm panel and the added option of an end-user App. This offers installers professionally monitored signalling designed to discourage self-monitored systems that bypass ARCs. CSL also offers an ARC Connection Only variant to enable ARC monitoring to be added to existing as well as new Wi-Fi/LAN installations where the communication hardware is already built into the panel.
TECHNOLOGY INNOVATION OF THE YEAR 2017
RISCO – Smart Home
RISCO Smart Home provides end-users with a professional security system that boasts intelligent home automation; combining video monitoring, energy management, smart access and easy control of lighting. Managed from the iRISCO smartphone app, RISCO Smart Home can be integrated as an add-on to all RISCO systems via the Microsoft Azure powered RISCO Cloud.
INTRUDER ALARM PRODUCT OF THE YEAR 2017
Pyronix – Enforcer V10
The latest panel from Pyronix combines all the best features of the Enforcer 32WE and Enforcer HomeControl+ panels. The Enforcer V10 features the same simple programming menus and the same range of Pyronix peripherals. The control panel (software version 10 and above) comes supplied with a DIGI-WIFI module for free, as standard.
ACCESS CONTROL PRODUCT OF THE YEAR 2017
Paxton – Net2 Entry Touch Panel
The panel features a 7" colour touch screen and personalisation options and is available in three variations, flush-mount, surface-mount and rain hood. The Net2 Entry Touch Panel has an IK7 impact protection rating with an easy to read anti-glare screen for optimal daytime viewing and includes a line-out for use with a T-Loop antenna for users with hearing aids.
FIRE SAFETY PRODUCT OF THE YEAR 2017
Xtralis – VESDA-E VEA
Vesda-E VEA is an addressable aspirating smoke detector. The VEA sampling points have patented air sampling points and multi-channel microbore air-sampling with three alarm sensitivity settings for the sampling points. As a multi-channel addressable system, the VEA detector is able to divide a protected space into sampling locations, enabling the localisation of potential sources of fire for faster incident response.
DISTRIBUTOR OF THE YEAR 2017
ADI Global
ADI Global has over 50 years of experience in the specialist security sector and provides installers with security solutions and bespoke support services to meet the ever-changing demands of the industry. With more than 200 worldwide locations each product division has its own team of product specialists.
And finally the product that received the most votes from across the security industry (not including manufacturers was:
SECURITY INDUSTRY PRODUCT OF THE YEAR 2017
RISCO – Smart Home
The security system incorporating intelligent home automation capabilities received the most combined votes from installers, customers, consultants and end users.
 See the August edition of PSI magazine for more details about the winners.