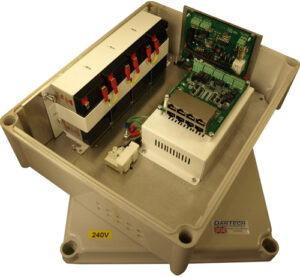 Pro-Vision Distribution is now offering the UK installer the new range of Dantech Power Over Ethernet (PoE) power supply units.
Simon Davies, Internal Sales Manager for Pro-Vision Distribution, said: "Dantech has released a range of Secure PoE midspan power injectors with 30W per channel capability. Ideal for remote locations these products feature a secure enclosure with all the connections inside and include status monitoring and tamper contacts which can be used in a variety of ways to increase system security.
"Gigabit and 10/100 bandwidth products are available in various output configurations and mounting options. As per the other products in the Dantech range, the units are manufactured and tested in the UK, compliant with IEEE 802.3:2012 (802.3at, 802.3af) and designed for use with all compatible load devices," explains Simon.
Developed for PoE device battery back-up, Dantech's Secure PoE range includes battery stand-by Midspan UPS models that provide continuous PoE power if the mains supply fails and come complete with Yuasa batteries in the form of replaceable battery packs.
The units are listed as ideal for powering CCTV cameras, video intercoms, locks or other types of device and are available in different sizes to cater for a variety of standby time requirements.