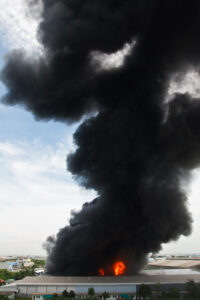 Helping companies understand the issues in fire risks management is part of a new training course from SGS. PAS 7 is designed to demonstrate a company is taking responsibility for managing fire risks and complying with the law. SGS has now introduced a new healthcheck to help companies prepare for fire risk.
The healthcheck looks at the areas of training, legislation, performance, maintenance, testing, operations and leadership in the fire risk management process. The SGS Academy is now running a series of PAS 7 introduction and awareness courses for those who understand the risks associated with fire in public and industrial premises.
Recent comments from the London Fire Brigade suggest that management failings can increase death rates in major fires and that a review is needed into fire risk management procedures.
Paul Stock, SGS PAS 7 Product Manager, believes this is a turning point for fire management in the UK: "Fire management systems are new to the fire sector and PAS 7 has been designed to demonstrate that an organisation takes all fire risks seriously and can deal with them. One of the major issues in fire management is not the way the buildings react in the event of a fire, but rather the way the people involved in the incident handle the procedures. Over the coming months PAS 7 will change to a British Standard number but will retain its importance and, more importantly, its relevance to fire safety management.
Fire and its safety concerns have never been more relevant. Take just one year – 2011 to 2012 – when fire services in the UK attended more than 585,000 fires or false alarms and 380 people died in fire-related incidents. It is vital that the human element in fire prevention is strengthened and PAS 7 is the standard designed to achieve reductions in those figures."