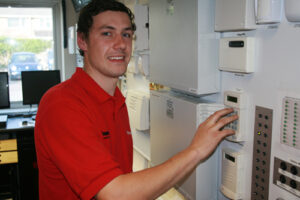 Allcooper has formed a new partnership with South Gloucestershire and Stroud College, to offer apprenticeships in electronic security systems.
An initial seven apprentices will be taken on by Allcooper to begin their apprenticeships in September 2016. The apprenticeship will give young people in the county the opportunity to begin a career within the security industry, focusing on the installation, maintenance and understanding of security and emergency systems, such as intruder alarms, CCTV surveillance and access control.
Whilst being trained and supported by Allcooper senior engineers, apprentices will work towards a City & Guilds Level 2 Intermediate Apprenticeship, combining workplace learning and practical experience, with dedicated time for study at the SGS College's Stroud Campus. Once underway, it is also intended to roll this programme out to the Filton Campus.
Since Allcooper was founded in 1987, a number of apprentices have progressed into higher positions within the company, including Executive Director, Roman Cooper, who joined the family business as an apprentice shortly after its formation.
Commenting on the launch of the apprenticeship, Roman explained: "Working closely with SGS College to offer this apprenticeship is great news for our industry and Gloucestershire. The more opportunities like this available to young people, the better, and companies like ourselves will only benefit from the development of new talent coming through the ranks. For apprentices themselves, I can assure them that the security industry offers a hands-on, diverse working environment with exciting future prospects."
Trudy Hillier of the SGS College Business Solutions Team added: "We're very excited to be offering this new apprenticeship to potential students and we are already receiving lots of interest. It's the first time we've offered this particular course, and we have worked with Allcooper to help get it off the ground."
Pictured: Allcooper installations apprentice, Scott Patient