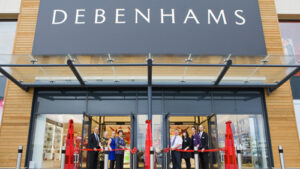 PEL Services has announced it has completed the design, supply and installation of a package of key safety systems for another Debenhams store.  As with other Debenhams stores around the UK, the new store in North Lincolnshire Shopping Park, Scunthorpe has been fitted with fire detection, security and public address (PA) and music systems by PEL Services.
The new store, which occupies 40,000 sq ft across two floors, is protected by a  store-wide 'open protocol' fire detection system and PEL's Refuge Call, which allows a disabled person to alert the central station to their predicament, enabling appropriate action to be taken.
A PA system, which is used for safety and general announcements and to broadcast in store radio and advertisements under a company-wide MEDIAinSTORE contract, has also been fitted by PEL.
As with any store, security was a key consideration and PEL has installed access control, intruder alarm and video door entry systems as part of the overall store security requirements.