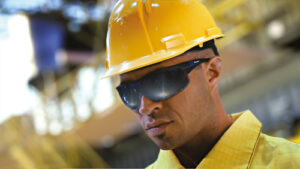 Honeywell has launched the next generation of its Millennia safety eyewear. Called Millennia 2G, the product offers workers a new design combined with the comfort and protection qualities of the existing Millennia family.  The eyewear is ready to wear straight from the packaging enabling workers to focus on the job at hand without worrying about adjustments or moving parts.
The Millennia 2G features a wraparound lens design to deliver eye and cheek coverage to protect from particulates, dust and impact risks. A shelf-like design along the brow further helps prevent dust from dropping into the frame from above.
The eyewear is available in a black frame and six lens tints, including Clear, Grey, Yellow HDL, Silver In/Out, IR 3 and IR5, to perform in almost any lighting application. Extremely scratch-resistant on the outside (K on all references) and Superior anti-fog coating on the inside (N marking – ref: 10 32179, 1032181 & 1032180). Certified to the requirements of the EN166 standards, the Millennia 2G style's dielectric design is safe for use in electrified environments.